Structural Waterproofing
Our waterproofing systems are a key part of any construction project, prevent the ingress of water into residential and commercial buildings. The British Standard for Waterproofing (BS8102:2009) sets out three types of suitable waterproofing: Type A, Type B and Type C.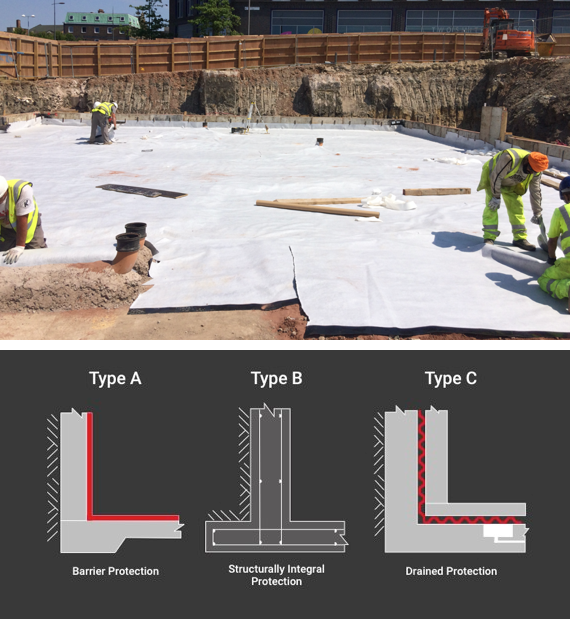 Keeping Buildings Dry and Habitable Across The World
Structural waterproofing is vital when keeping buildings dry and habitable. We're seeing rising water levels, more floods and more rain than ever before. The intrusion of water into new builds can be devastating and causes thousands of pounds worth of damage. To get the greatest level of protection at the lowest cost, plan waterproofing your buildings as soon as possible.
Structural waterproofing below ground is a specialised operation. It must be undertaken by contractors and designers who have the requisite levels of skill and experience. Our technical team specialise in structural waterproofing and will work with you to choose a suitable waterproofing solution. Operation depends on the type of system we use, but all our systems protect against water damage. Type A systems provide an active barrier defence against water, Type B systems protect the building through design, and systems drain water through an extraction system.
Which Type Is Right For Me?
TYPE A
'Protection against water ingress which is dependent on a separate barrier system applied to the structure.'
Otherwise known as Tanking, Type A waterproofing provides protection against groundwater ingress by applying a waterproof material to the external walls and floor slabs of a basement or underground structure forming a barrier between the structure and any groundwater present.
Can be applied either externally or internally.

Offers a double layer of protection.

Materials include Bonded Sheet Membranes, Liquid Applied Membranes, Geosynthetic Bentonite Clay Liners, Cementitious slurries and powders.
TYPE B
'A structure that is waterproof by design; relies on the materials used and the design of the building.'
Type B protection places added importance on the design of the structure and the specification of materials as well as the quality of the workmanship involved in preparing and placing concrete. This is due to the fact that the pattern of any seepage encountered is often associated with poor joints, cracks or other discontinuities such as service penetrations.
Should be constructed of reinforced water-resistant concrete or structural steel.

Relies upon the design and materials incorporated into the external shell of the structure itself.
TYPE C
'A water management system that controls and diverts water into a disposal point.'
Type C protection allows groundwater to penetrate through the external wall or floor as far as the cavity between the external shell and internal lining/finishes, collecting it via a Cavity Drain Membrane and then diverting it into controlled drainage and a designated safe point of disposal.
Protection against water ingress into usable spaces which is provided by the incorporation of an appropriate internal water management system.

Cavity Drain Membranes are studded on the external-facing surface, allowing any water that penetrates the structure to flow into the designed drainage channels

Water is carried to either a sump and pump chamber or away from the structure if passive drainage is possible.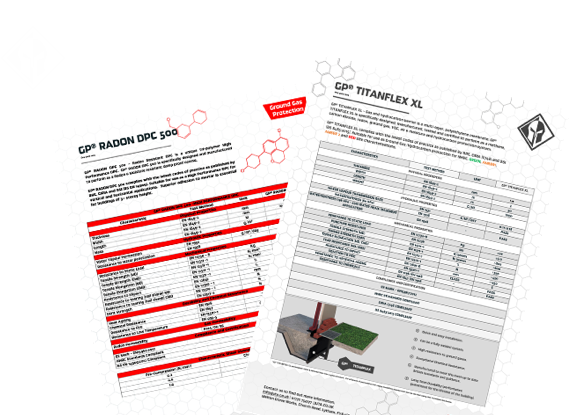 ---
TITANTECH® Membranes, The Industries Finest.
GP TITANTECH® membranes are currently the only single system membranes that provide gas protection and grade 3 waterproofing protection. Not only this, GP TITANTECH® membranes are fully test to comply with C682, C716 and C748 for a suite of VOC and hydrocarbon contaminants.
Our membranes are built to last, having been extensively tested and proven to withstand the most aggressive environments. If you're looking for a robust, durable and flexible gas protection solution then look no further.
Download TITANTECH® Brochure

---
Future-Proofing Buildings Around The World.
Our technical team are members of industry standards for both ground gas and waterproofing, and play an active role in developing new standards. We provide a tailored design package to suit your bespoke project needs - we're here to work with you to achieve the desired outcome and ensure your structure is future-proofed.
Get In Touch With The Experts
If you feel first class service, premium products direct from source, and bespoke solutions are right for you then don't hesitate to contact our team today on 01772 754177 or email us at info@juta.co.uk
Contact Us