GP® VOID VENT
GP® VOID VENT is a geocomposite void former composed of a cuspated High Density Polyethylene (HDPE) Drainage core with a non-woven polypropylene (PP) geotextile separator/filter bonded to one side. Optimised for maximum strength and performance, providing high levels of air/gas flow.
Read More
Product Benefits
HDPE does not support bacterial growth.

HDPE is highly resistant to acids and alkalis.

Made in accordance with the recommendation contained within NHBC Guidance and BS8485:2015 + A1 2019.
Product Description
GP® VOID VENT is a cuspated HDPE core with a geotextile filter/separator bonded to a single side, in either 25 mm or 45 mm depth. The intended use of the void vent is to provide a means of ventilation when used in conjunction with an approved gas protection barrier, in accordance with the recommendation(s) contained within NHBC guidance and BS8485:2015 + A1 2019.
The Void Vent is supplied in either 25mm or 40mm void depth. Material is joined by overlapping of the loose edge of geotextile for full coverage, or laid in strips as per the ventilation design.
Complies with the latest codes of practice as published by BRE, CIRIA and NHBC. Void Vent is independently tested and verified by UKAS accredited bodies.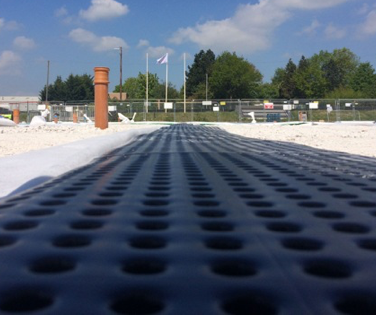 Applications
GP® VOID VENT is designed to be used below ground level structures to provide a void in which harmful gases have a preferential pathway to flow through the underside of the building and discharge at the perimeter via suitable outlet accessories dependent on the design.
GP® VOID VENT should be used in conjunction with an approved Gas Protection Barrier and in accordance with the recommendations contained within BS8485:2015 + A1 2019.
Gas venting design should be prepared by a suitably qualified geo environmental engineer with calculations to demonstrate suitable dilution capabilities. JUTA UK recommends the installation of the GP® VOID VENT is completed by a suitably qualified and accredited installers (NVQ level 2). JUTA UK can offer advice as to suitable/recommended installers if required.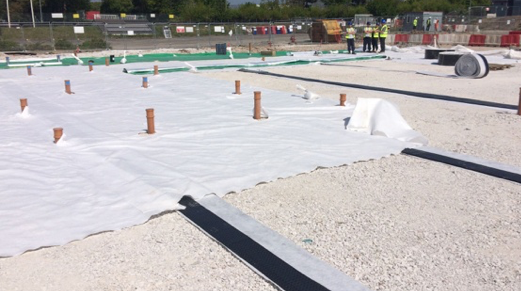 Handling & Storage
Roll weights can be between 50 kg and 100 kg hence appropriate equipment is required for unloading and handling.
GP® VOID VENT is supplied in packaging designed to protect the product from damage during handling and storage, and degradation as a result of UV exposure. GP® VOID VENT should be kept in the supplied packaging until such time as it is required for installation.
Compliance & Certifications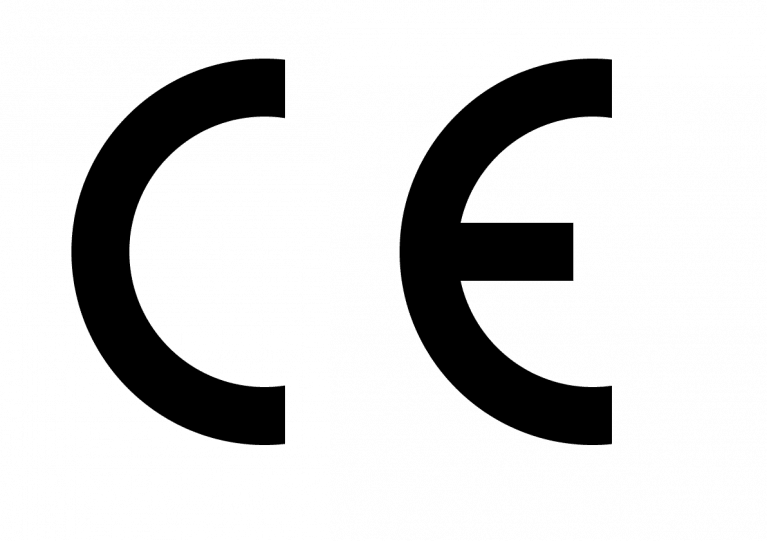 Site Investigation
Site Investigation Reports Monitoring Results. We review these reports and advise routes for compliance.
System Design
Full Ground Gas Protection System Design available.
Specification
Wide library of standard details with site specific details on request.
Installation
All our installers are certified NVQ Level 2 qualified installation contractors.
Validation
We ensure your project complies with the relevant building regulations.
Get In Touch With The Experts
If you feel first class service, premium products direct from source, and bespoke solutions are right for you then don't hesitate to contact our team today on 01772 754177 or email us at info@juta.co.uk
Contact Us